2022 Artist Awards
Congratulations to these incredible artists!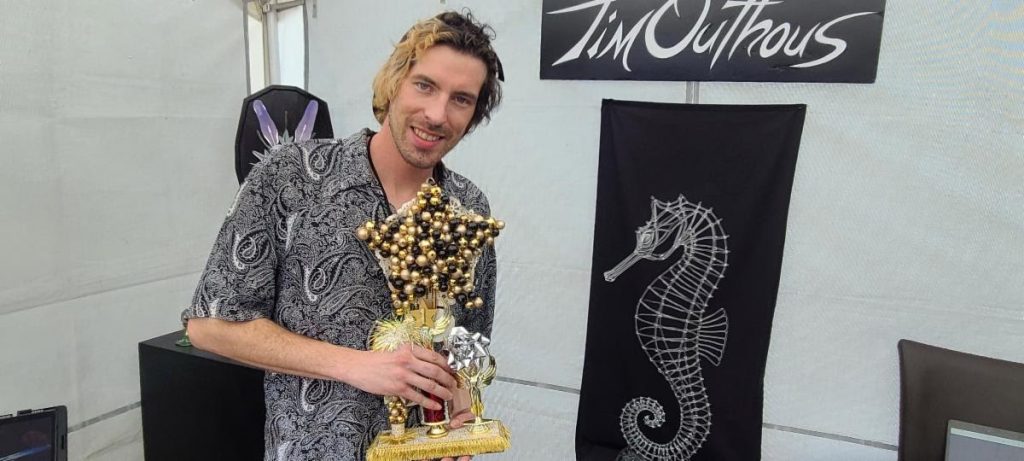 The 2022 ArtiGras Fine Arts Festival presented by Hanley Foundation and produced by the Palm Beach North Chamber of Commerce is proud to announce Tim Outhous from Boothwyn, Pennsylvania, has won Best of Show for his glass work.
"I'm speechless and feel blessed. I don't have words for how I'm feeling right now, but I am excited to be here," said Outhous who is showing at ArtiGras for the first time. "I will definately be returning to ArtiGras next year." 
The winners were selected by three judges who scored each artist and awarded a Best of Show and a first-place winner in each of the 12 categories. The judges also awarded 12 Judges awards and one Emerging Artist award which this year went to artist Chelsea Hackbart from Jupiter, Florida.
"I'm shocked I won. I was not expecting this. This is great," said Hackbart, whose artwork is in the medium of photography. "I have had a great experience being an Emerging Artist this year and definitely recommend it to anyone who wants to start working art shows."
Emerging Artists are artists from the Palm Beach area who are exhibiting in an outdoor art festival for the first time. These artists have been through a vigorous training program with ArtiGras event staff and other artist experts over the past six months to learn how to prepare for the show.
The following is a list of the artists who placed first in each category and the Judges Awards:
List of First Place Winners: 
| | | | | |
| --- | --- | --- | --- | --- |
| Booth | First | Last | Media | Award |
| 302 | Salem | Barker | Wood | First |
| 424 | Sharon | Bastin | Ceramics | First |
| 218 | DAN | BI | Mixed Media | First |
| 153 | John | Dennison | Photography | First |
| 126 | Pamela | England | Fiber  Wearable | First |
| 239 | Chelsea | Hackbart | Emerging Artist (first time doing a show) | First |
| 400,401 | Christopher | Jeffries | Glass | First |
| 303 | Antoni | Kozlowski | Jewelry | First |
| 271,272 | Sarah | LaPierre | Painting | First |
| 321,322 | Edward | Loedding | Digital Art | First |
| 230,231 | Aaron | Reed | Drawing and Printmaking | First |
| 309,310 | Eric | Shupe | Sculpture | First |
| 460 | Jean | Yao | Fiber  Nonwearable | First |
Judges Awards:
| | | | | |
| --- | --- | --- | --- | --- |
| Booth | First | Last | Media | Award |
| 222 | peter | rujuwa | Sculpture | Judges Award |
| 313 | Derrick | Crossland | Wood | Judges Award |
| 219 | Don & Serena | David | Jewelry | Judges Award |
| 403,404 | Craig | Dietrich | Photography | Judges Award |
| 120 | Loura | Dobbs | Sculpture | Judges Award |
| 261 | Juan | Giron | Sculpture | Judges Award |
| 116,117 | Jenny | Henley | Mixed Media | Judges Award |
| 200,201 | Richard | Hilgendorff | Photography | Judges Award |
| 355,356 | Julie | Keaten-Reed | Painting | Judges Award |
| 252 | Claudia | Melchiorre | Jewelry | Judges Award |
| 269 | Woody | Patterson | Mixed Media | Judges Award |
| 212 | Greg | Thomas-Moore | Wood | Judges Award |
| 456,457 | Thomas | Wargin | Sculpture | Judges Award |