The hotels listed below are within 25 minutes of the show site and have chosen to offer a discount to participating Artists. Please book soon, as ArtiGras occurs during the height of travel season so space will fill up quickly. We look forward to seeing you soon!
Palm Beach Gardens Marriott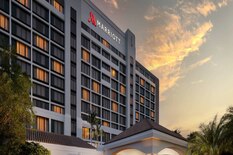 4000 RCA Boulevard
Palm Beach Gardens, Florida 33410
Business center
Fitness center
Free high-speed internet
High-speed internet at a price
PGA National Resort and Spa
400 Avenue of the Champions
Palm Beach Gardens, FL, 33418
Our legendary resort, with 354 rooms and suites, is a premier golf, spa, vacation and meeting destination located in prestigious Palm Beach Gardens, Florida. Set in a lush landscape of tropical palms and well-manicured lawns our AAA 4-Diamond resort invites you to relax in contemporary and spacious rooms all with private balconies or terraces, and complete with a luxe bedding package. PGA National offers 90 holes of championship golf on five courses.